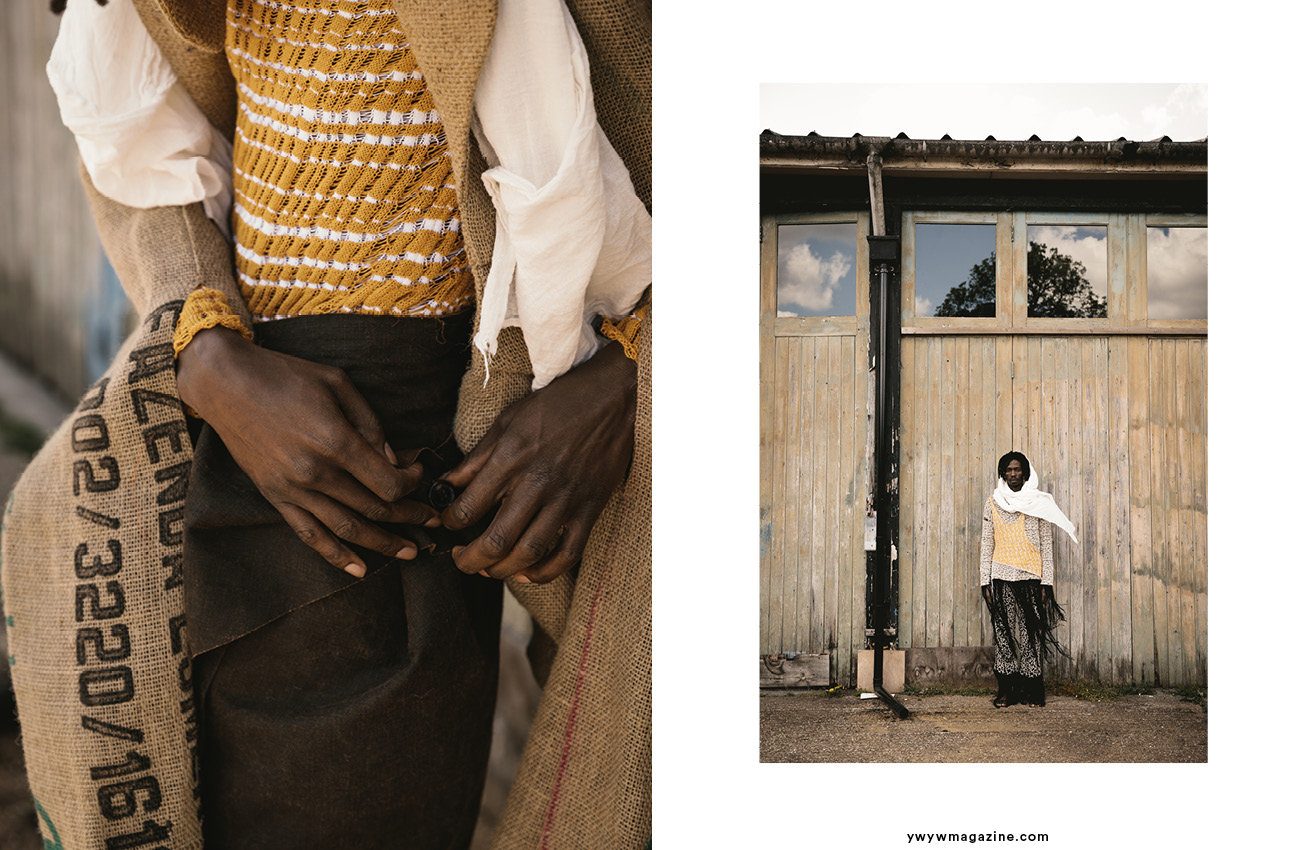 Evangelina Julia was born in 1994 in Madrid where at the age of 18 started working as a fashion model. It was however very soon that Evangelina Julia realized she could not keep her mouth shut as models are expected to do and decided therefore to move to London undertaking a rounded activity experimenting with different tools and mediums, trespassing different disciplines, all highlighting her appeal for sculptures and performance. Notes on Divinity is Evangelina Julia's first self-published book that collects all these early experiences.
She than pursued a Fashion Design and Development BA that led to her collection Travelling Blind. Evangelina Julia's work delves into the construction of stories, personalities, uniforms and the creation of a 'second skin' that allows the wearer to show their personality, through the nomadic world we live in. Though clothing is her main expressive medium, Evangelina Julia likes to explore a wide range of creative languages such as acting, video and painting to help build a complete and dynamic narrative.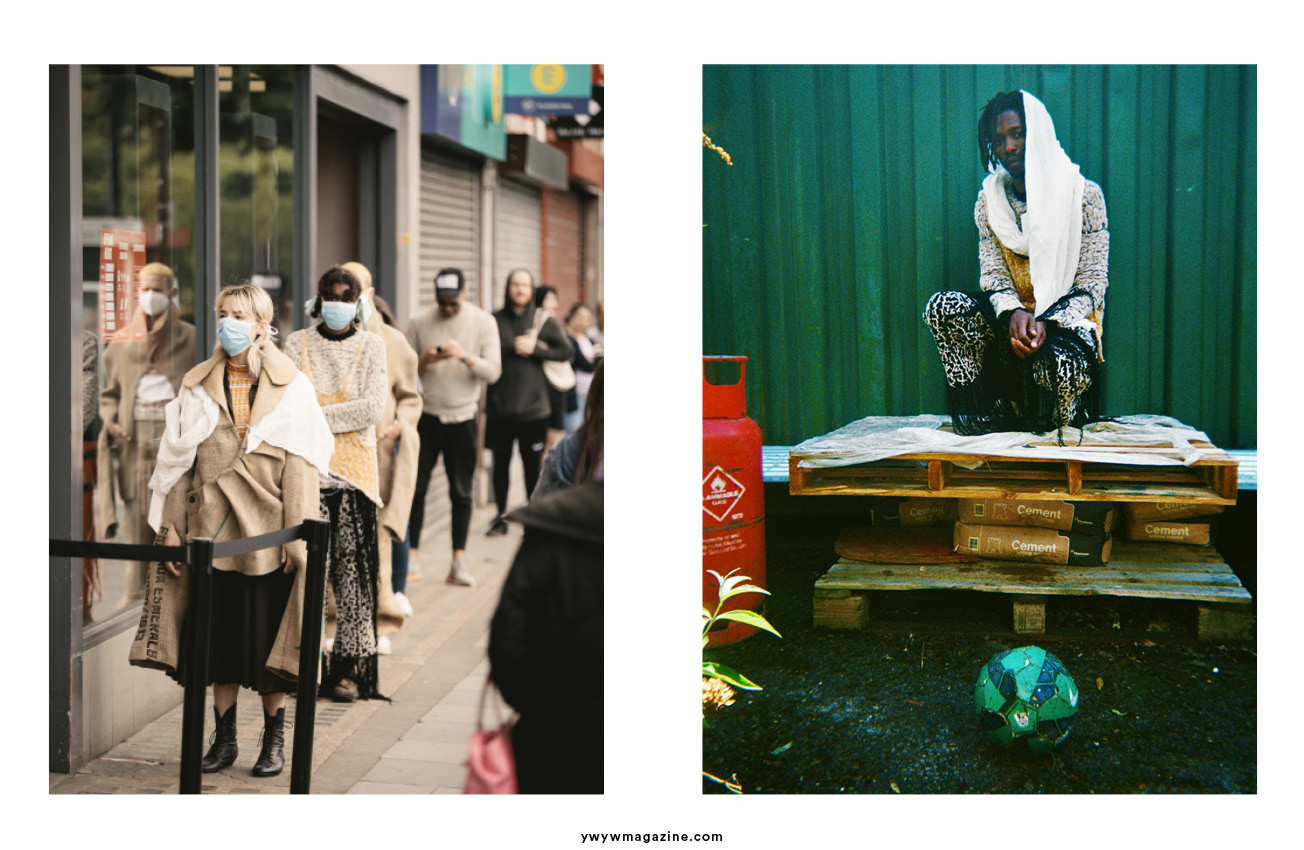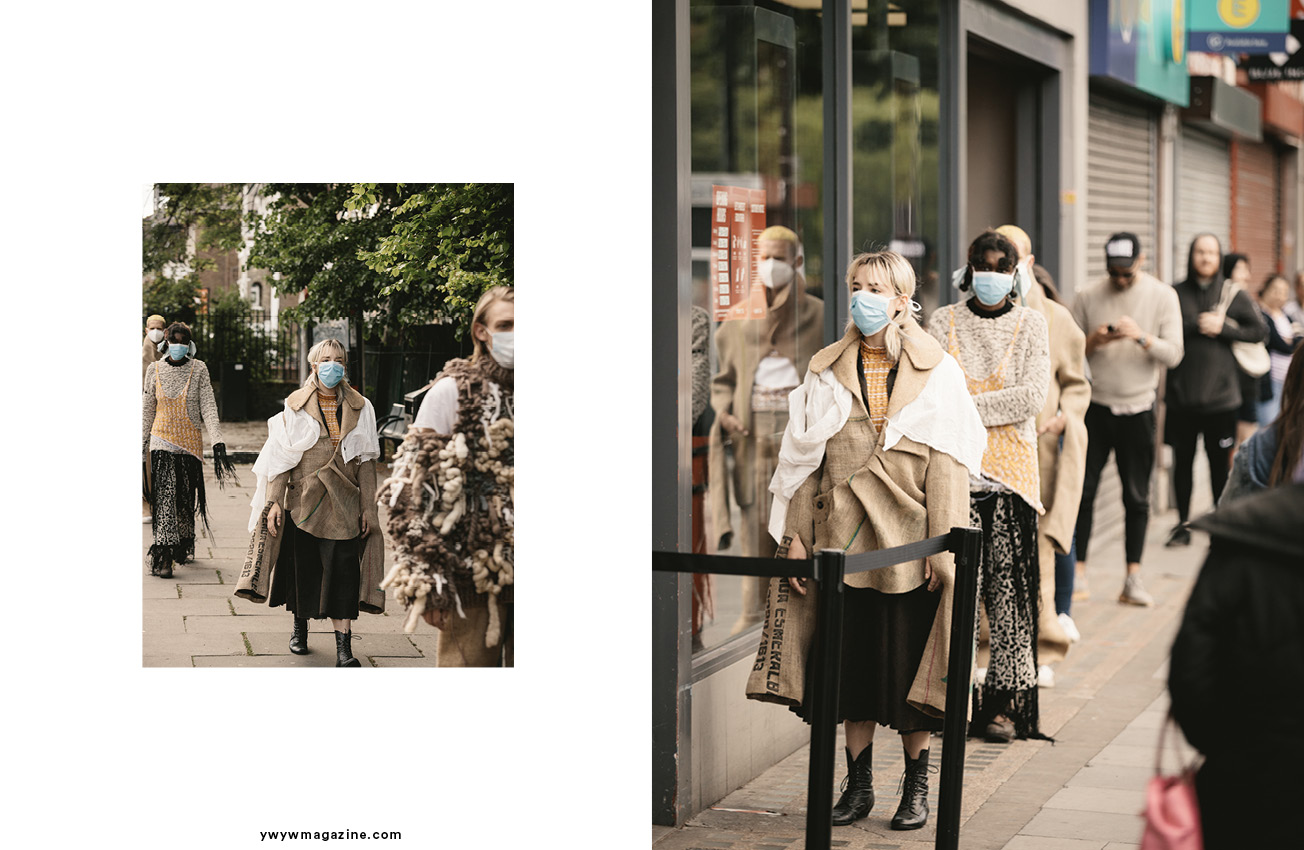 WHAT INSPIRED YOUR COLLECTION AND WHAT WAS THE PROCESS THAT LED YOU TO CONCEIVE IT? 
Travelling blind investigated a range of different topics before it achieved the main concept, blindness. Starting with travelling, and then on to the idea of migration, I focused on birds' imagery to explore and move in redundancy. The research followed a blind destination, away from the obvious, dragging you to a sustainable philosophy and a bridge like idea to help impoverished people and nature in African countries.
This will give the garments a statement of expression, making them unique for a group of costumers. Following the connectivity between Africa and the abstraction of mirror used by these tribes, comes the idea of being blind in the world of fashion. Moving away from the literal thought, the collection wants to bring the suggestion of wildness and nature to the fact that often blind people hate going out in nature, due to the impossibilities and difficulties that they experience along the way.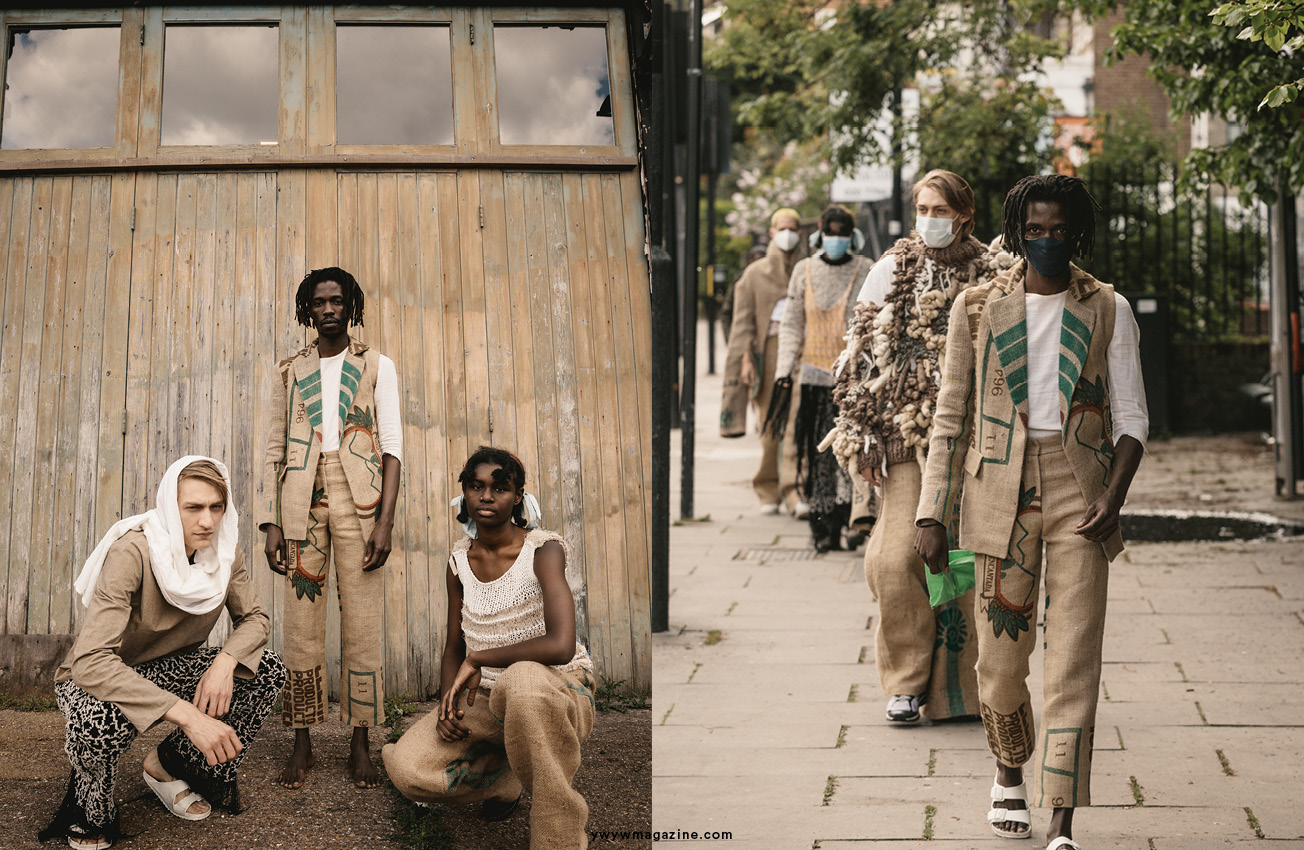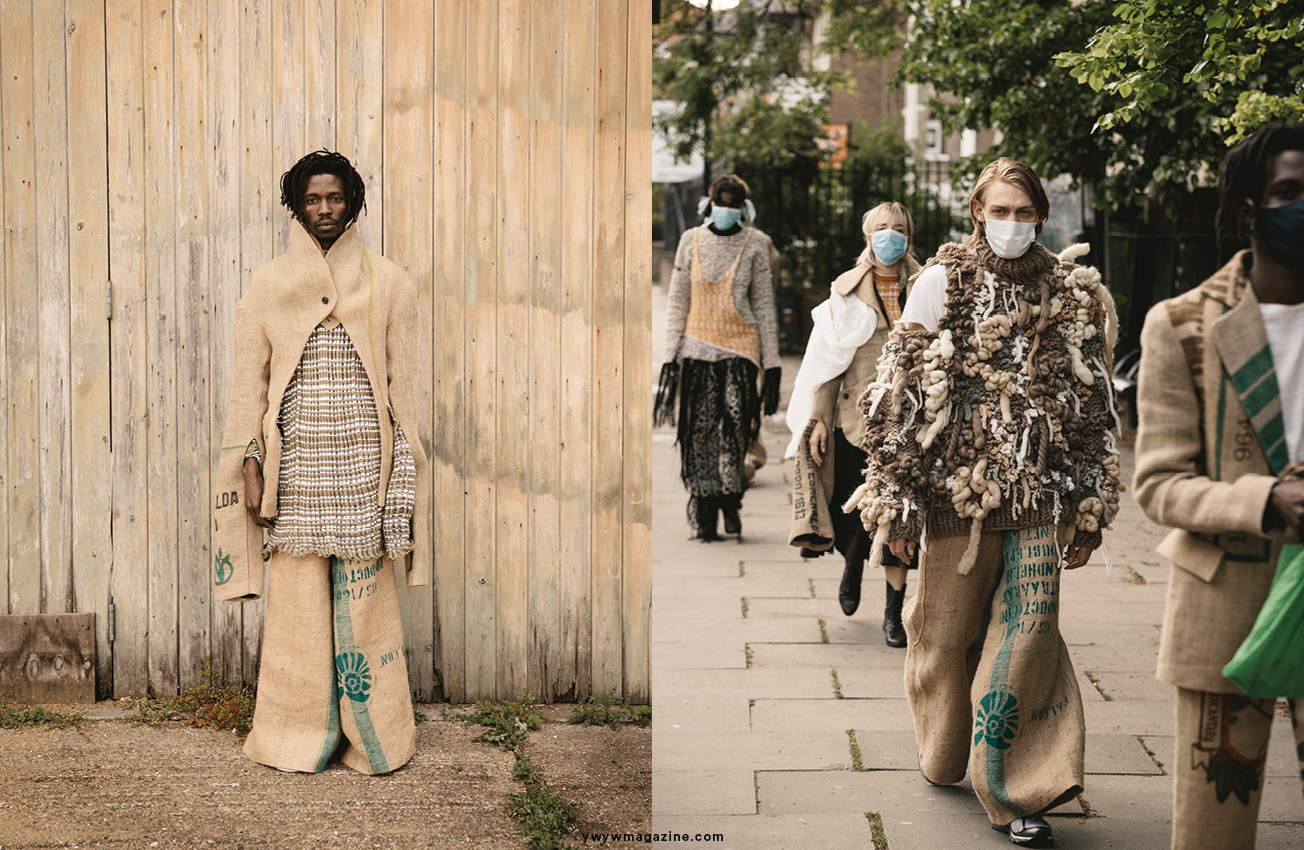 WHAT KIND OF MAN DOES YOUR COLLECTION WANT TO DRESS? WHO IS IT FOR? The collection explores menswear but is also understood by a feminine consumer as well, making it unisex for equal measure. The collection is aimed at someone who has a desire in changing the norms, frustrated when fashion forms barriers instead of freedom and progression.For them, there are no borders.
Their goal is to improve society by recycling. They believe that craft cannot be replaced, although they are open to new technologies if they are considered within the realm of sustainability. They are adventurous and nomadic, finding themselves as part of a community, believing in collaboration.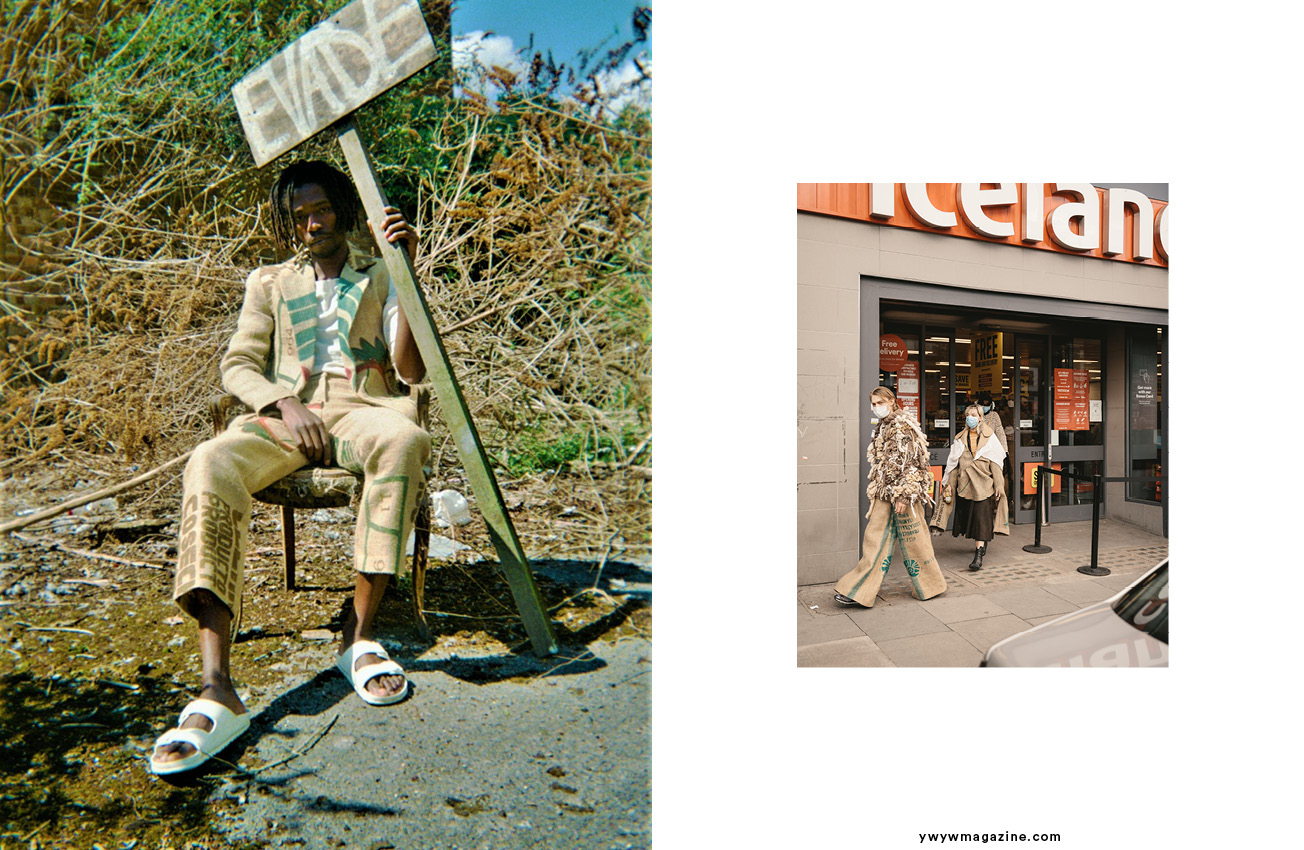 YOUR PHOTOS REPRODUCE THE IDEA OF A FASHION SHOW, HOW DID YOU CONCEIVE THE SHOOTING PROJECT?
The idea came from the cancellation of the graduate degree show. Due to the pandemic and the situation we experienced / are still currently facing, I started analysing such an unprecedented context. This gave me the opportunity to not only reflect back, but to understand that the normality of fashion was never normal. I felt a yearning and a need to speak up. Thoughts and ideas affect us more in this time of hypersensitivity and anxiety, therefore, there is a chance and the right conditions for change, to dismantle the fashion industry´s infrastructure. Using the rules and regulations of Covid-19, I created a runway show.
As "buying essential groceries" was the only permitted reason to leave the house, this became the moment, the nervousness, the fear, the anxiety, and the happiness. In many ways mirroring much of the same emotions you encounter when you are preparing for a fashion show. Once out, the streets become the backstage, and the queue replicates those minutes just before the start of the show. Those minutes that seem like hours, where you reflect on ideas upon ideas, when that moment becomes a decision maker or a love talker.
Once the show starts, the groceries, masks and gloves become your only audience. What it should be. Dressing for you, not for someone else.
Leaving the supermarket, the tension is over, no more options of being seen or coming into contact with others, adrenaline is over, and the runway comes to an exhilarating end when you arrive home. 
This being said, the garments I created are assembled, combined, conformed and deformed to build the character depending on the situation you encounter.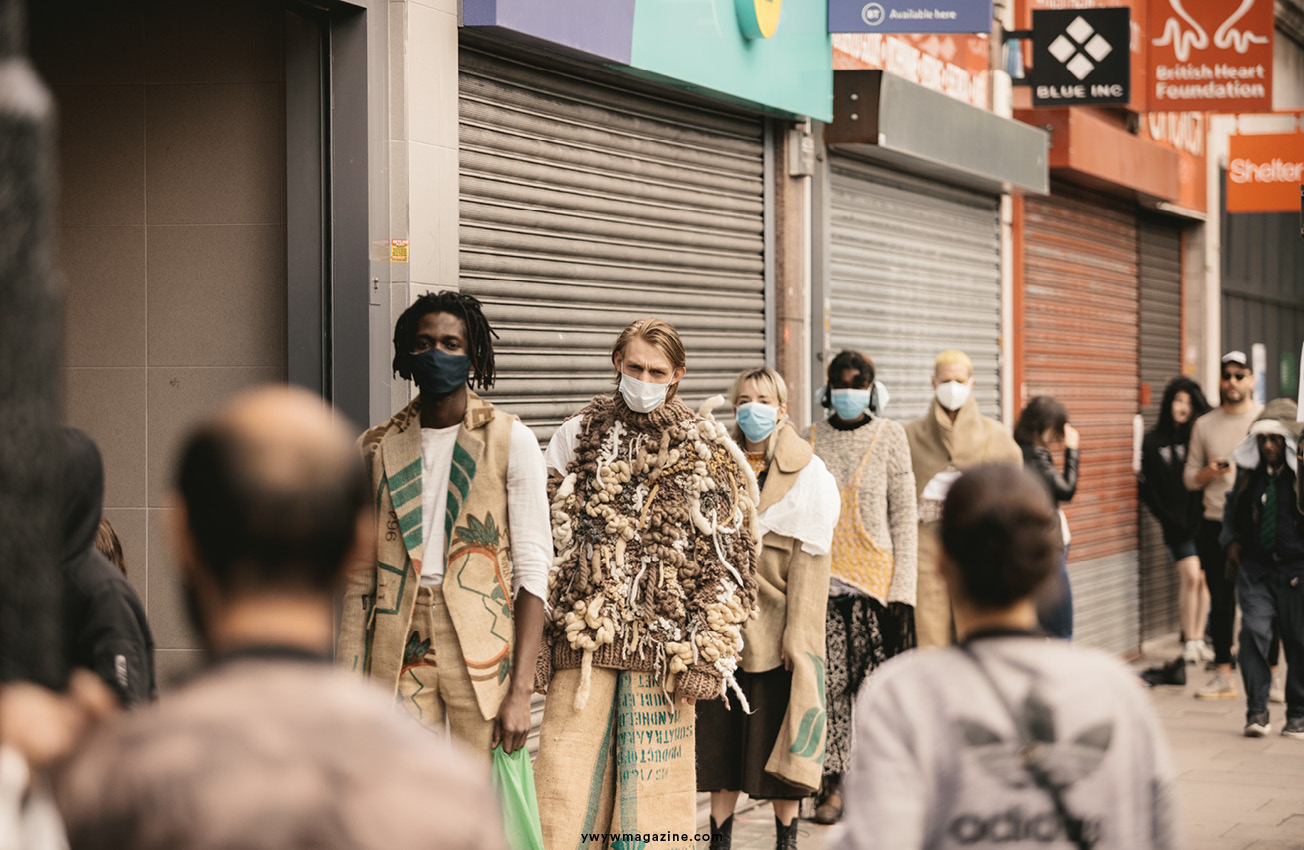 FROM THE TECHNICAL POINT OF VIEW OF THE PRODUCT, WHAT PROCESSES/MATERIALS DID YOU USE TO PRODUCE YOUR COLLECTION?
The desire of freedom and progression is implemented in the concept itself. For example, garments with braille language (all the tags are in braille) and "rough" materials, those knitted with chunky wool, to meet all the goals, leading to tough garments that the wearer would have to be brave to wear. In addition, interviewing blind people to find their opinions on colour and the emotional memories they have attached to them, a brown colour palette was the conclusive result of such research.
As a consequence, the main materials used are recycled coffee bags and recycled Japanese cotton dyed in mud. In addition, thoughts such as how can we show the colours of the garments through tactile experience or how important colour is for the visually impaired, have been main focuses of the project. This is emulated clearly in the clothes' appearance, with a dominant focus on texture over colour.
To conclude, understanding sustainability not just as an idea, but as a state of mind, has led me to new ideas of creating garments: cutting stripes of calico and old t-shirts and knitting them together, creating new textures and fabrics. 
Finally, in relation to silhouette, draping has been a key factor of experimentation to achieve this natural hanging effect. Patterns also became a complex work process so as to adhere to principle of zero waste.