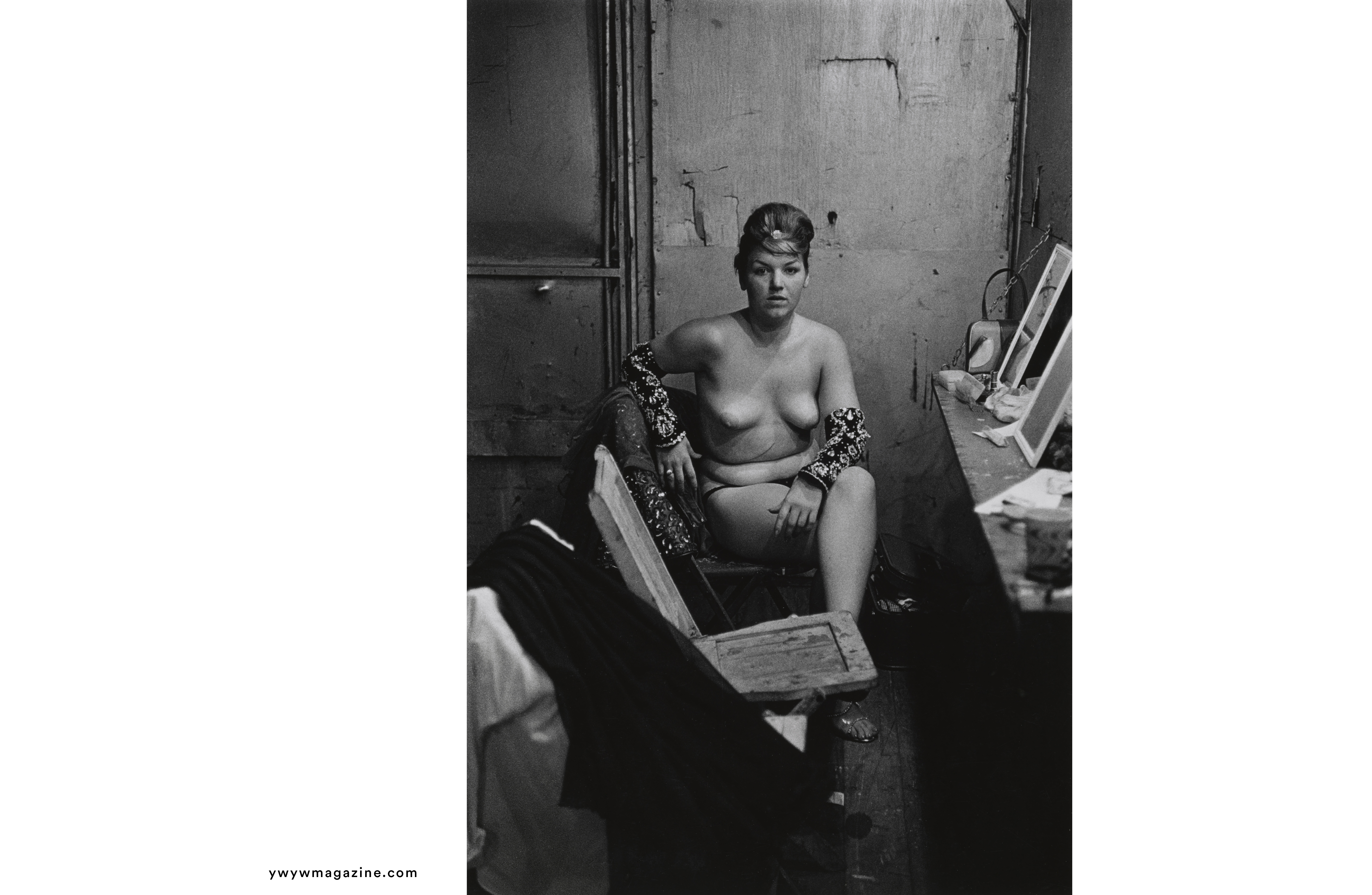 Stripper with bare breasts sitting in her dressing room, Atlantic City, N.J. 1961. Copyright © The Estate of Diane Arbus, LLC. All Rights Reserved.
Hayward Gallery presents "Diane Arbus: In the Beginning", including nearly 100 photographs that redefine the achievement of one of the most prominent and influential artists of the 20th century. The exhibition takes an in-depth look at the formative first half of Diane Arbus' career, from 1956 to 1962, when the American master developed the direct, psychologically acute style for which she later became so widely celebrated.
"Diane Arbus: In the Beginning" features arresting portraits of individuals across the spectrum of American society. Arbus discovered the majority of her subjects in New York City, from Fifth Avenue to the Lower East Side, from Times Square to Coney Island.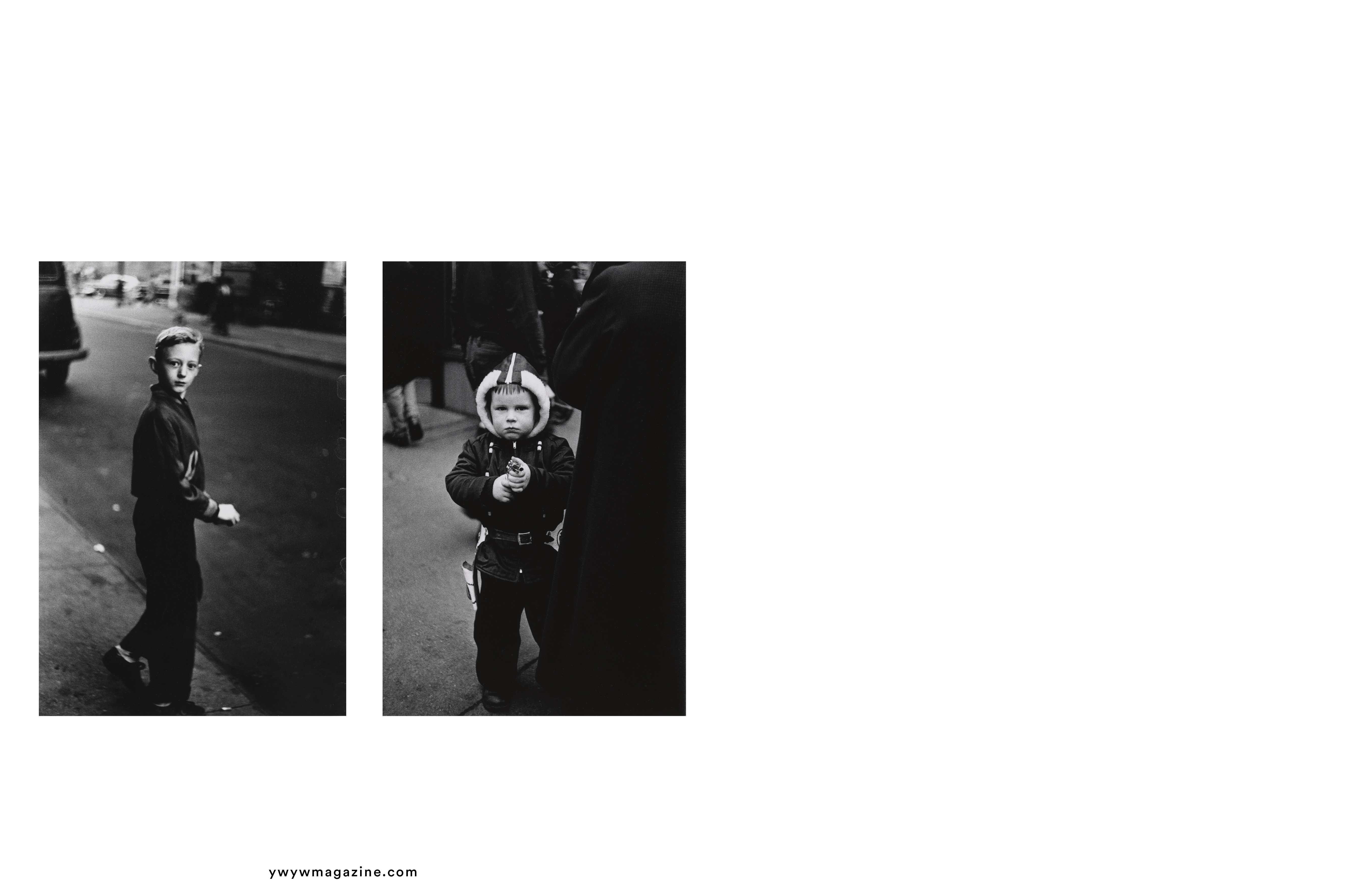 Left: Boy stepping off the curb, N.Y.C. 1957–58. Right: Kid in a hooded jacket aiming a gun, N.Y.C. 1957. Copyright © The Estate of Diane Arbus, LLC. All Rights Reserved.
Creating some of the most compelling photographs in the history of post-war photography, she depicted a cross-section of urban life, including portraits of couples and children, solitary city dwellers, carnival performers, strippers, and transvestites. The exhibition traces Arbus' growth from her early work with a 35mm camera to the distinctive square format she began using in 1962.
Arbus first began making photographs in the early 1940s when she received a camera as a gift from her husband, Allan. Whilst working as a stylist in their fashion photography business for 15 years Arbus created her own pictures only intermittently, but in 1956 she numbered a roll of 35mm film #1, as if to symbolise the definitive beginning of her career as an artist.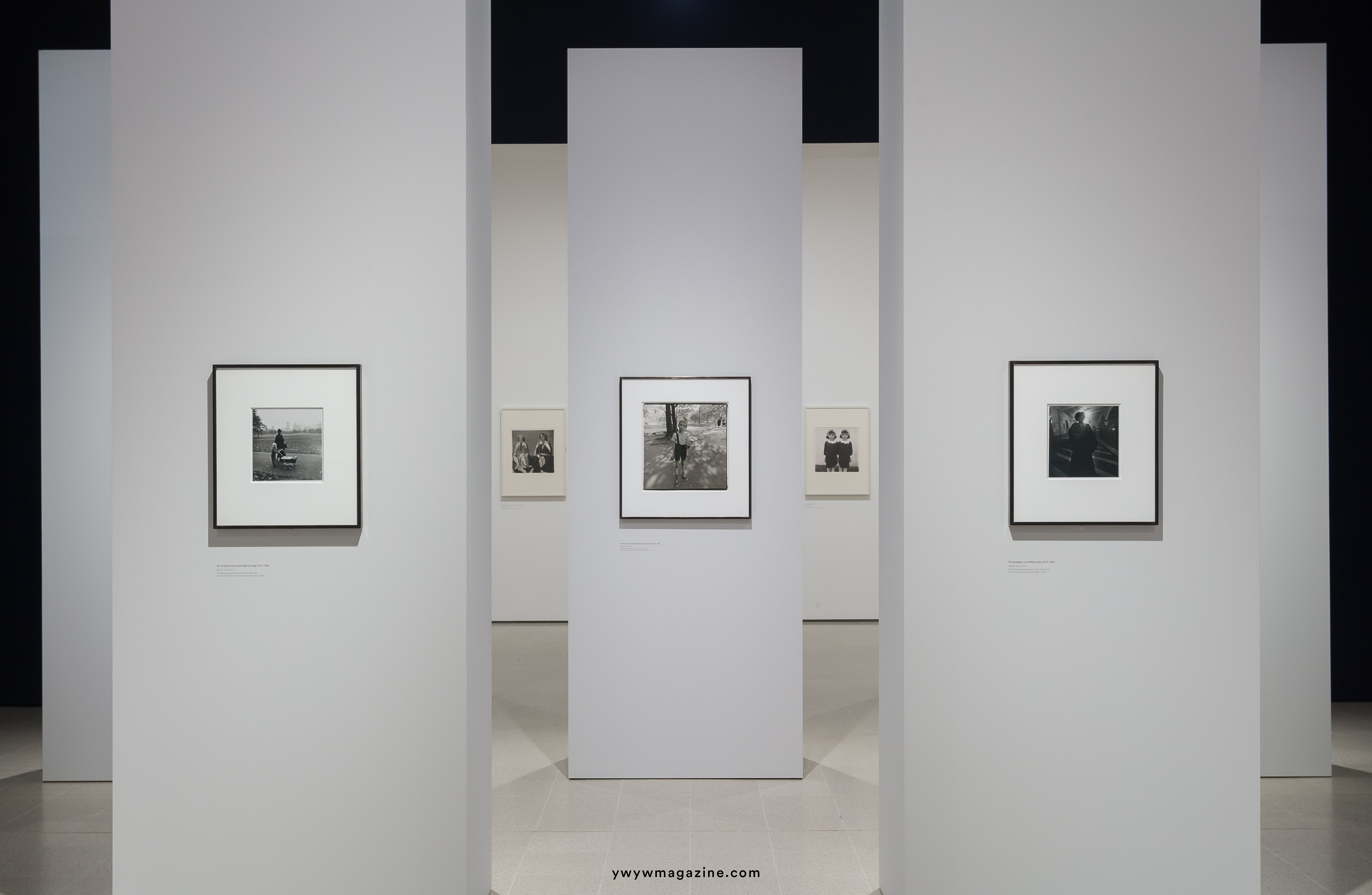 Exhibition view: In the Beginning, Diane Arbus, Hayward Gallery.
Over the course of the next seven years Arbus' photographic style evolved as she documented individuals and interacted closely with her chosen subjects. Whereas many other photographers working at the time, such as Walker Evans, Garry Winogrand and Lee Friedlander, would often play the role of passive observer or even conceal their cameras, Arbus' images are fuelled by the intensity of direct personal encounters with her subjects. This exchange on both sides of the camera — between seeing and being seen — raises existential questions that ultimately transmit themselves onto the viewer. Arbus always believed she had something special to offer the world, a glimpse of its many secrets: "I do feel I have some slight corner on something about the quality of things. I mean it's very subtle and a little embarrassing to me but I really believe there are things which nobody would see unless I photographed them."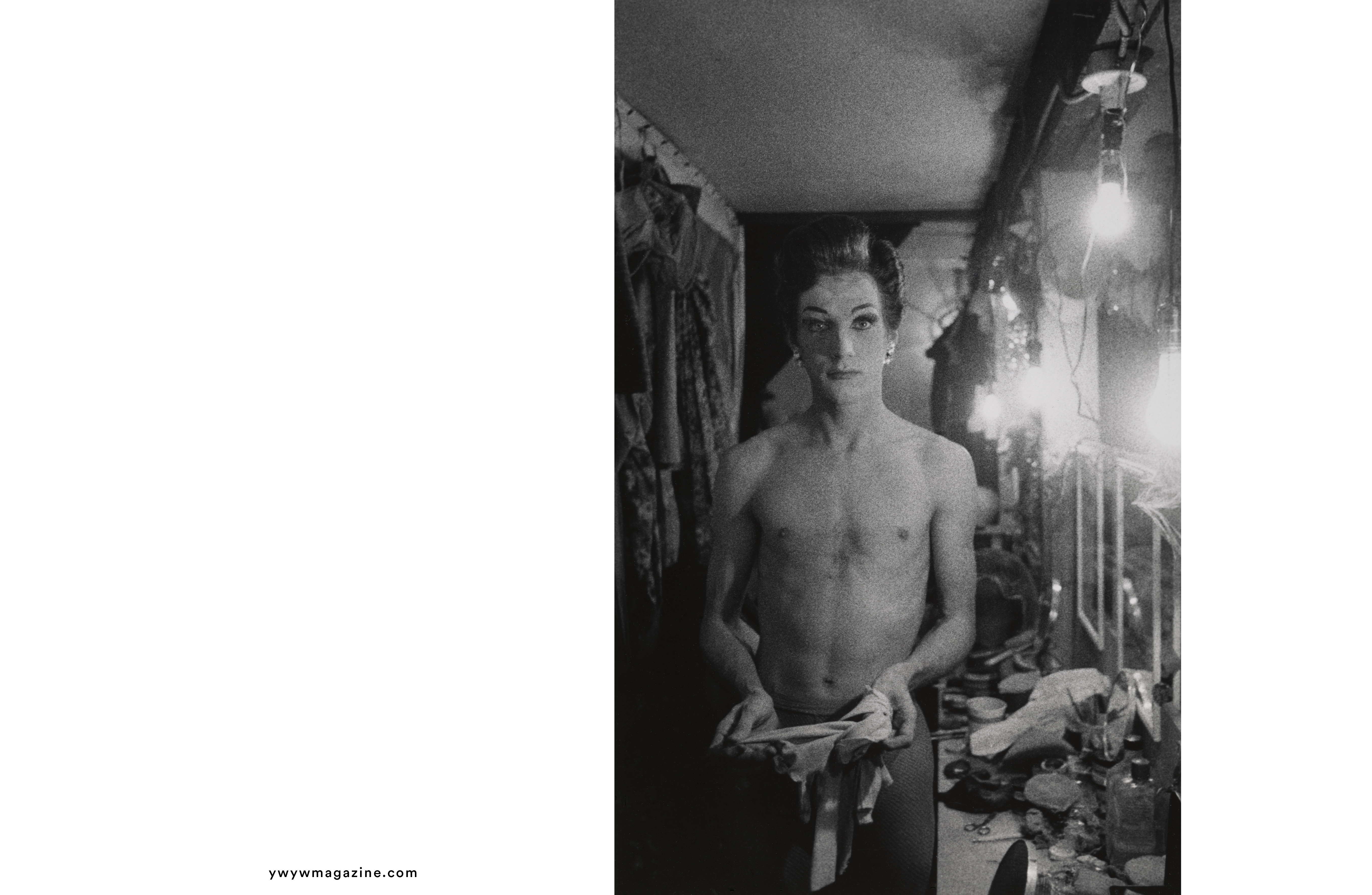 Female impersonator holding long gloves, Hempstead, L.I. 1959. Copyright © The Estate of Diane Arbus, LLC. All Rights Reserved.
Each photograph is presented on an individual free-standing wall and visitors are encouraged to navigate their own individual routes through the exhibition, experiencing one-on-one encounters with these intimate works. This innovative approach provides a glimpse into the way Arbus navigated the world in which she photographed.
In 1962, Arbus began to work with a 2 ¼-inch square-format Rolleiflex camera, producing such iconic photographs as Child with a toy hand grenade in Central Park, N.Y.C. 1962. The installation concludes with a separate gallery presenting A box of ten photographs, the portfolio Arbus produced in 1970 and 1971 comprising legendary portraits in square format that include Identical twins, Roselle, N.J. 1967 and A Jewish giant at home with his parents in the Bronx, N.Y. 1970.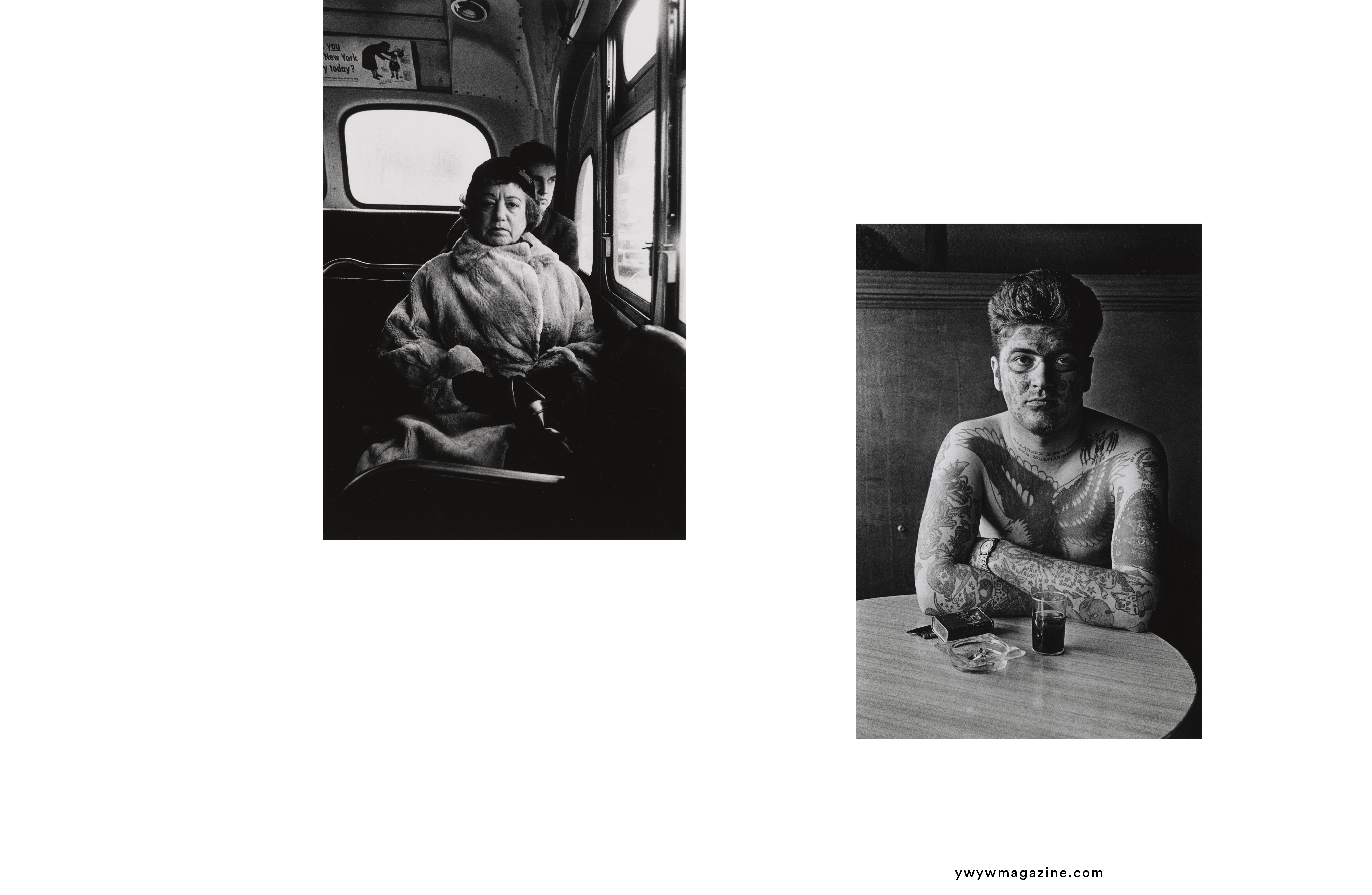 Left: Lady on a bus, N.Y.C. 1957. Right: Jack Dracula at a bar, New London, Conn. 1961. Copyright © The Estate of Diane Arbus, LLC. All Rights Reserved.
Ralph Rugoff, Director, Hayward Gallery said: "As the first UK institution to exhibit Diane Arbus' photographs in a major retrospective back in 1974, Hayward Gallery is delighted to be able to host the photographs of one the most influential artists of the 20th Century once again. This exhibition focuses on Arbus' key early career photographs which clearly show how Arbus' unique perspective developed and how she came to create the arresting images she is deservedly widely celebrated for."
Exhibition at Hayward Gallery until 6th of May.
Courtesy The Metropolitan Museum of Art, New York.