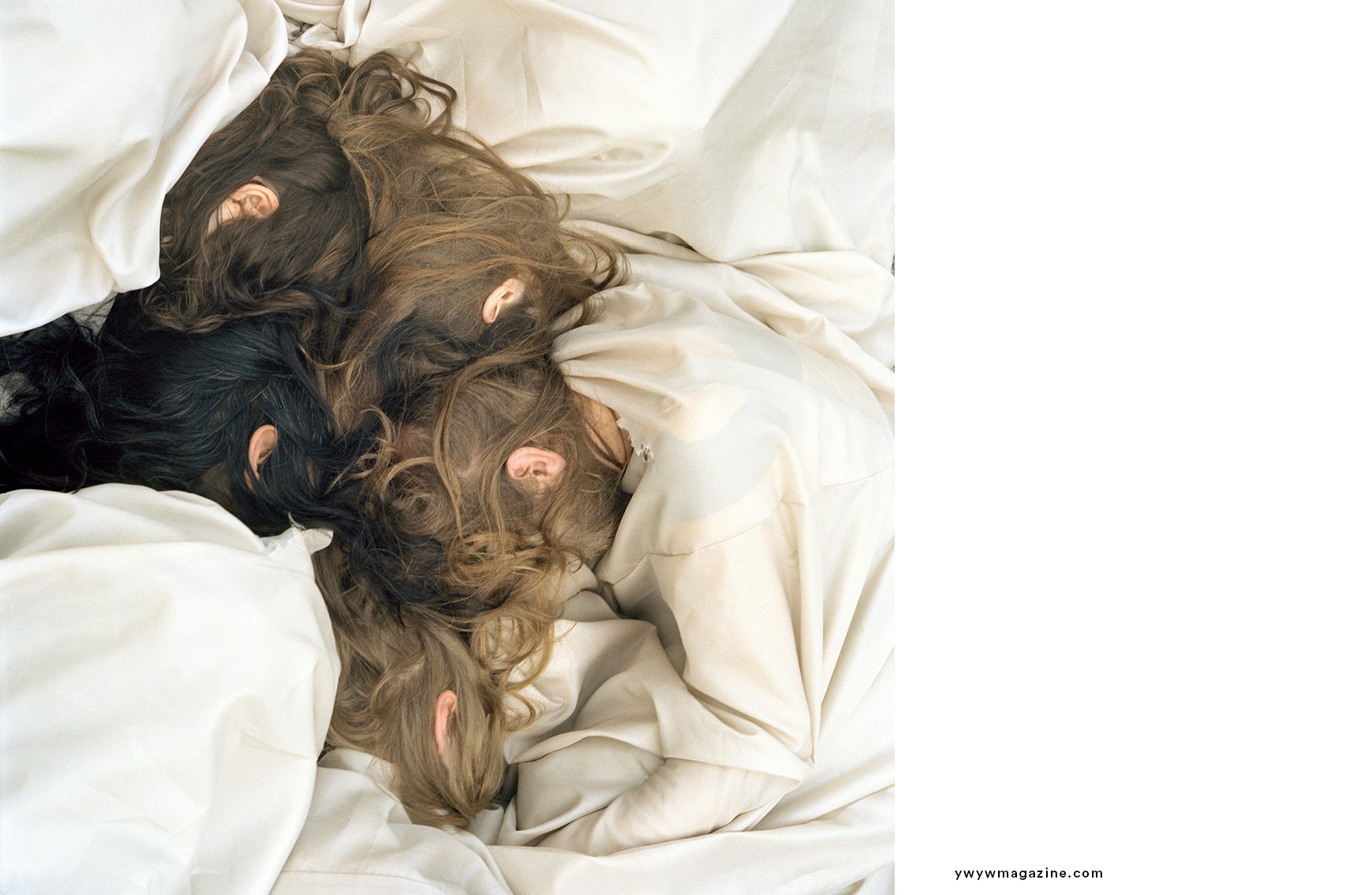 Honey-Suckle Company, Mit Musik geht alles besser, 2005. 
The Institute of Contemporary Arts presents 'Omnibus', the first-ever survey of the work of the Berlin collective Honey-Suckle Company, which brings together key moments of the group's twenty-five-year history.
Founded in 1994, Honey-Suckle Company identify themselves as a movement, built around an ongoing series of fluctuating and ephemeral interventions in fashion, music and art. The collective emerged from the post-reunification and pre-Internet cultural and social contexts of Berlin, defined by epochal underground techno and squatting scenes. The group's name is derived from homeopath Dr. Edward Bach's honeysuckle Flower Remedy. According to Bach, the honeysuckle plant's homeopathic properties helps one to learn from past experiences and re-establish a sense of trust in the future in order to feel grounded in the present.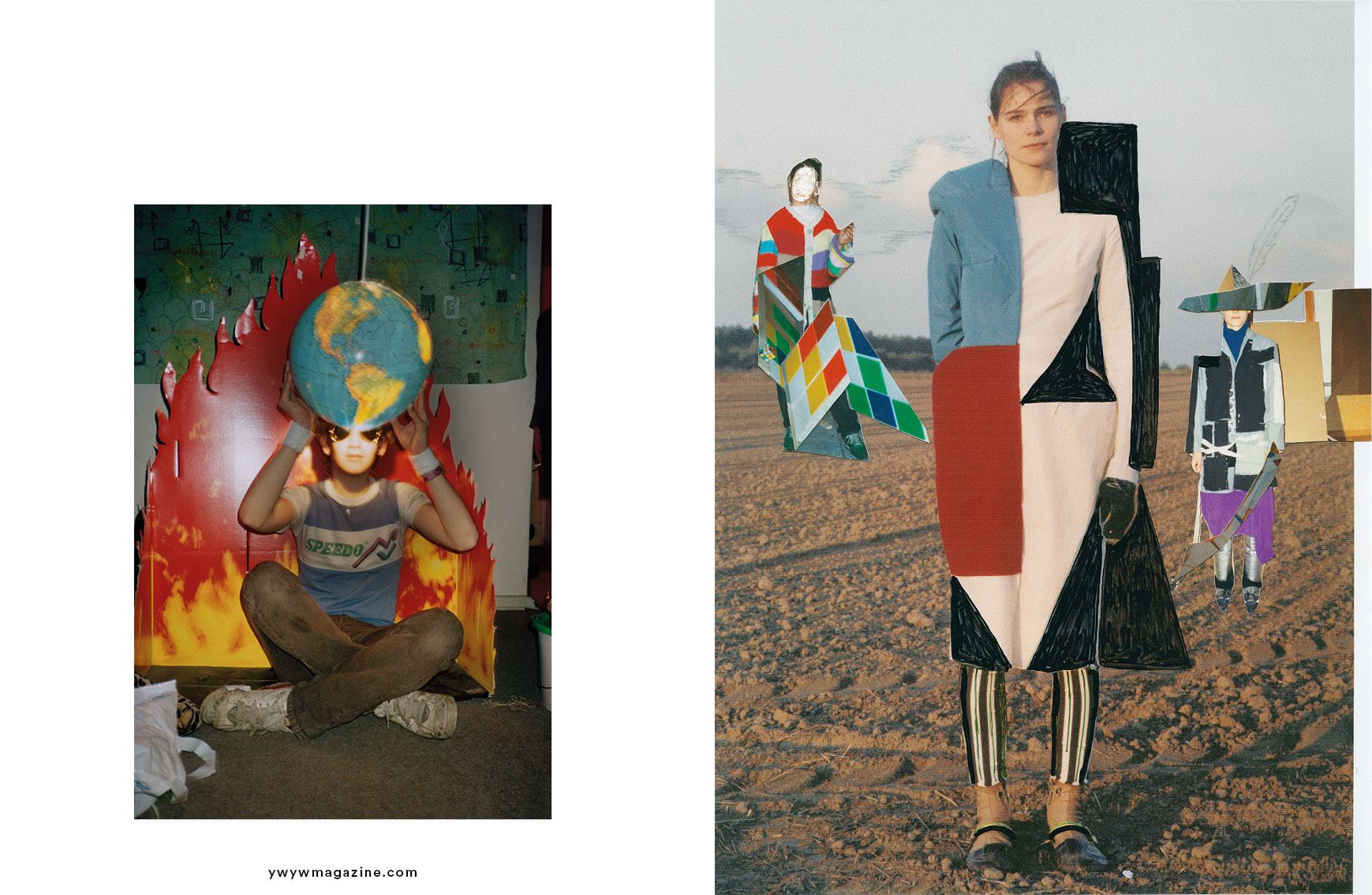 Left: Honey-Suckle Company, Generation Yps, 1996. Right: Honey-Suckle Company, NEU WEST END (New Silhouettes For The Modern Human Being), 1999. 
Honey-Suckle Company draw their core ethos from this hypothesis, which they project onto their lived experience of a city in a state of flux between temporalities, political ideologies and cultural movements.
Honey-Suckle Company's work often originates out of shared living and working spaces, existing as an ongoing aspect of the group's lives and experiences, while also appearing within more formal institutional settings. Sustained by communal methods of production, their work encompasses clothing, performances, happenings, installations, photographs, music, films and publications.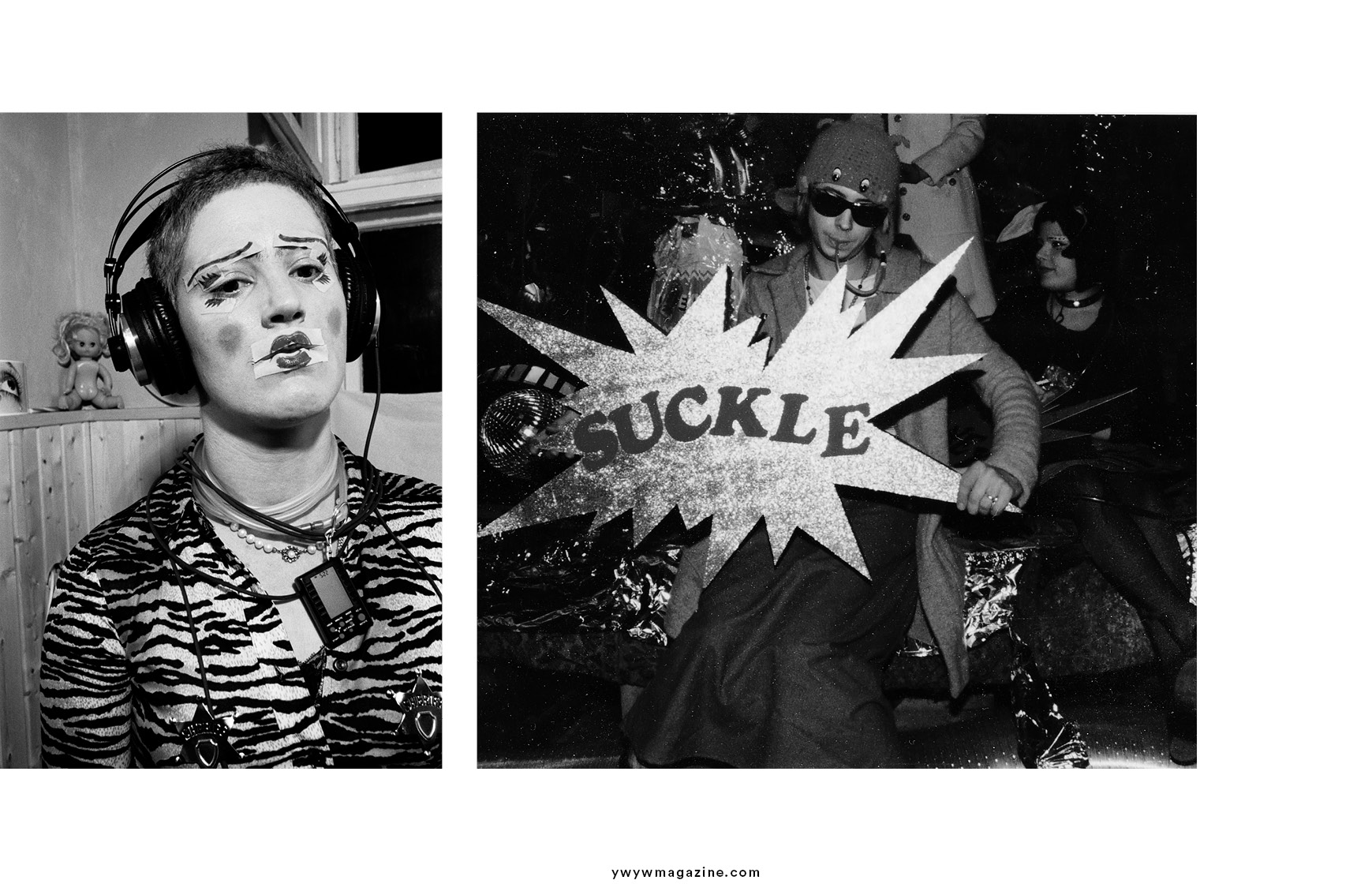 Left: Honey-Suckle Company past member Frida Korn in the kitchen (jewellery: toy with second-countdown to the year 2000), 1995. Right: Honey-Suckle Company, Tape Your Own Identity, collection, 1995. 
'Omnibus' presents key aspects of Honey-Suckle Company's work, revealing the group's past, present and future through an amalgamation of existing works within new installations. The exhibition begins in the ICA's Lower Gallery, with a new multi-sensory installation that exists between a theatrical set and a post-apocalyptic archaeological dig. The exhibition concludes in the Upper Gallery with the work 'Materia Prima' (2007) – an edge-less white room inset into the ICA's existing architecture, which presents a complete void of visual information.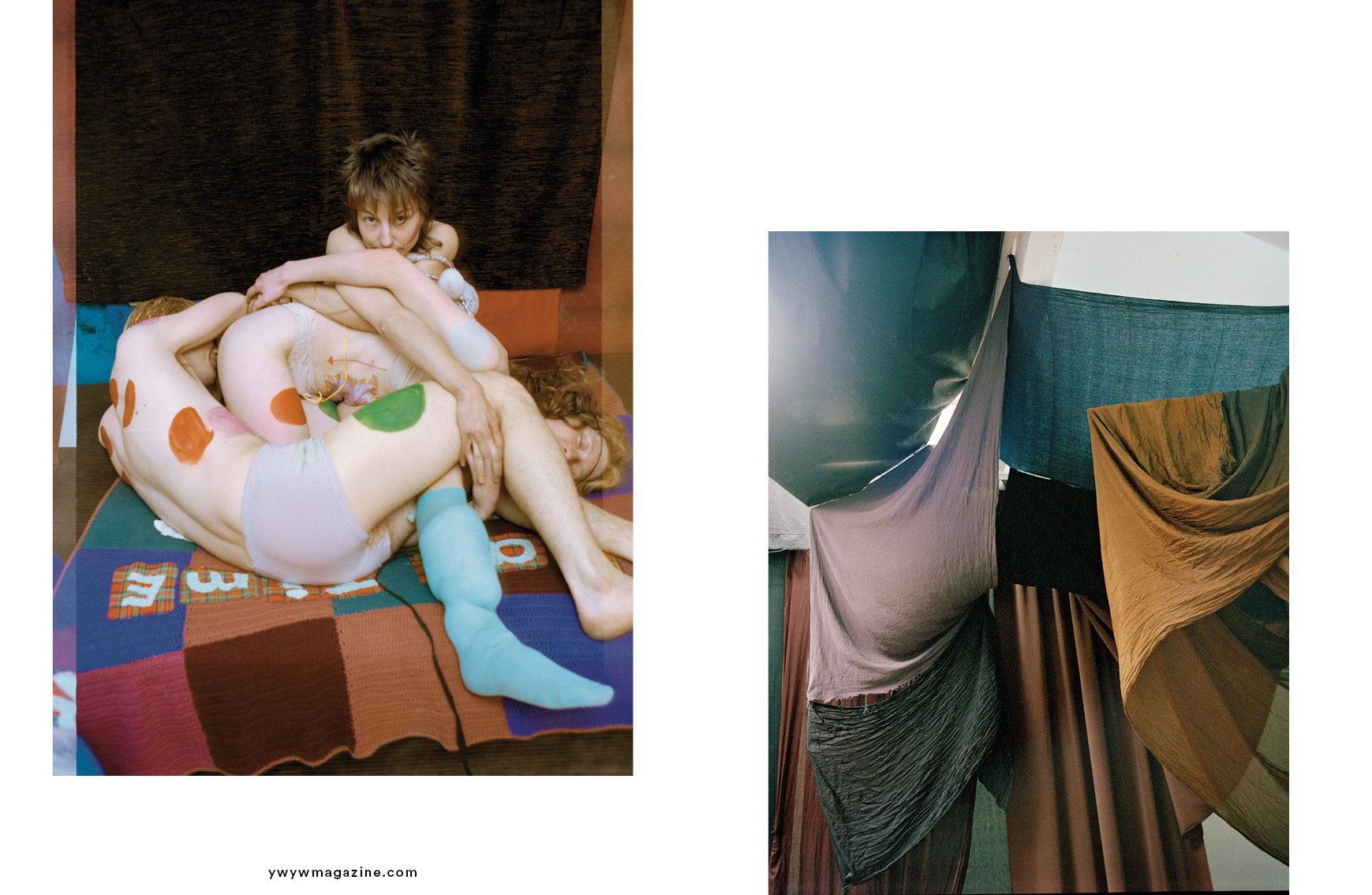 Left: Honey-Suckle Company, Real Time Spasm – Fuck the Sugarsystem (It's Easier to Make a Hole Than to Build a Pole), 1998. Honey-Suckle Company, OHN END, 2005. Installation view of OHN END at Cubitt Gallery, London, 2005. 
The annex room of the Lower Gallery presents a time capsule of Honey-Suckle Company's activities in the mid-1990s, encompassing photographic and video documentation of their work from this period. Between 1994–95, the group produced several collections of clothing, which they presented through performances, installations and films in self-run spaces such as galerie berlintokyo.
Worn by highly styled members and collaborators of the group, HSC's wearable assemblages were made using duct tape, photocopied pages from books, plastic toys, deconstructed stuffed animals and computer parts. In the group's second clothing collection, 'Tape Your Own Identity', worn assemblages can be seen as 'rotating galleries' of favorite images and clippings from newspapers and magazines.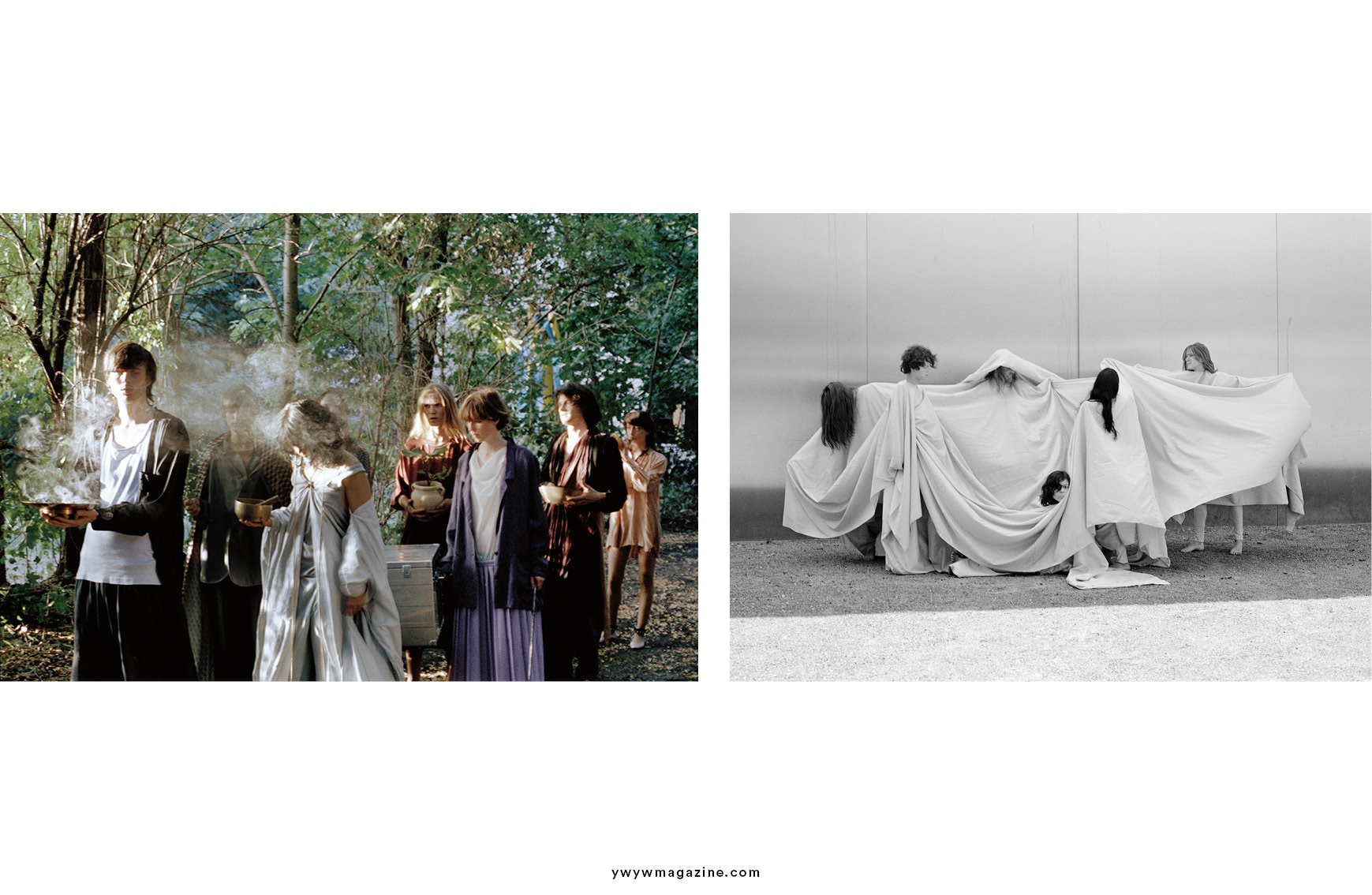 Left: Honey-Suckle Company, So Last Season, collection, 2003. Right: Honey-Suckle Company, Menschenhaus (house of men), 2005.  
Although created during a pre-digital period, HSC's clothing collections reveal how the collective's work foreshadowed many prominent aspects of social media, including projected identities and desires. Alongside the clothing collections, members of HSC produced music and performed in bands such as Synthetic (with Captain Space Sex) and Batterie ON/OFF, as recorded in the photography on display. Also exhibited are videos and animations made during the same period using Super 8mm film, Hi-8 video formats, and Nintendo Game Boy graphic programs, suggesting various influences including Japanese noise music, punk, new wave, glam rock and techno.
Exhibition at Institute of Contemporary Arts until 12th of January
Courtesy all images Honey-Suckle Company