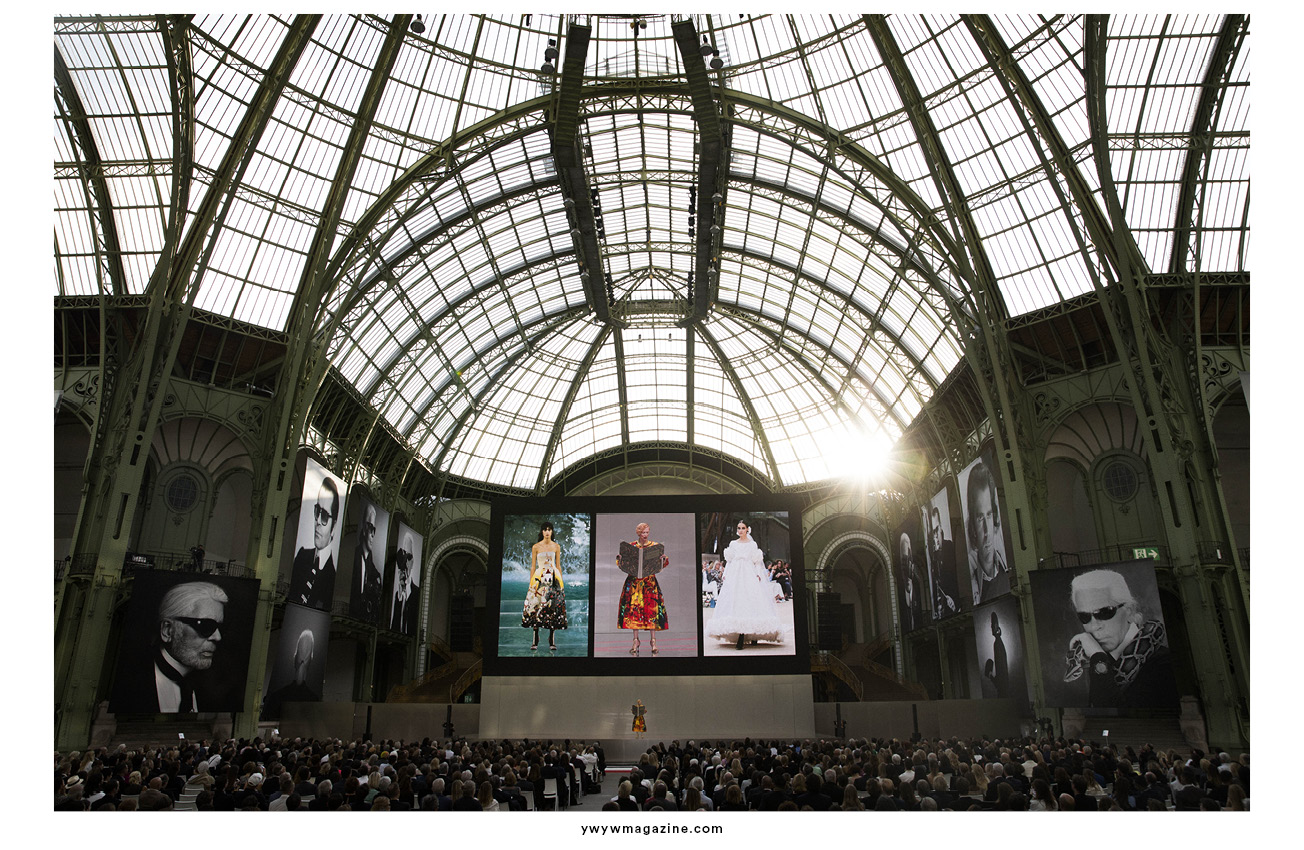 Actress Tilda Swinton pays tribute to Karl Lagerfeld at the Grand Palais, Paris
Thursday night, 20th of June, the Houses of Chanel, Fendi (LVMH) and Karl Lagerfeld all came together to pay tribute to late designer Karl Lagerfeld at a celebration designed, directed and staged by Robert Carsen. The many facets of this extraordinary man were evoked through a tapestry of videos filmed throughout his life, interspersed with testimonials from people who knew him, as well as the generous "live" contributions of highly talented actors, musicians, dancers who interpreted some of the music and literature Karl loved so much.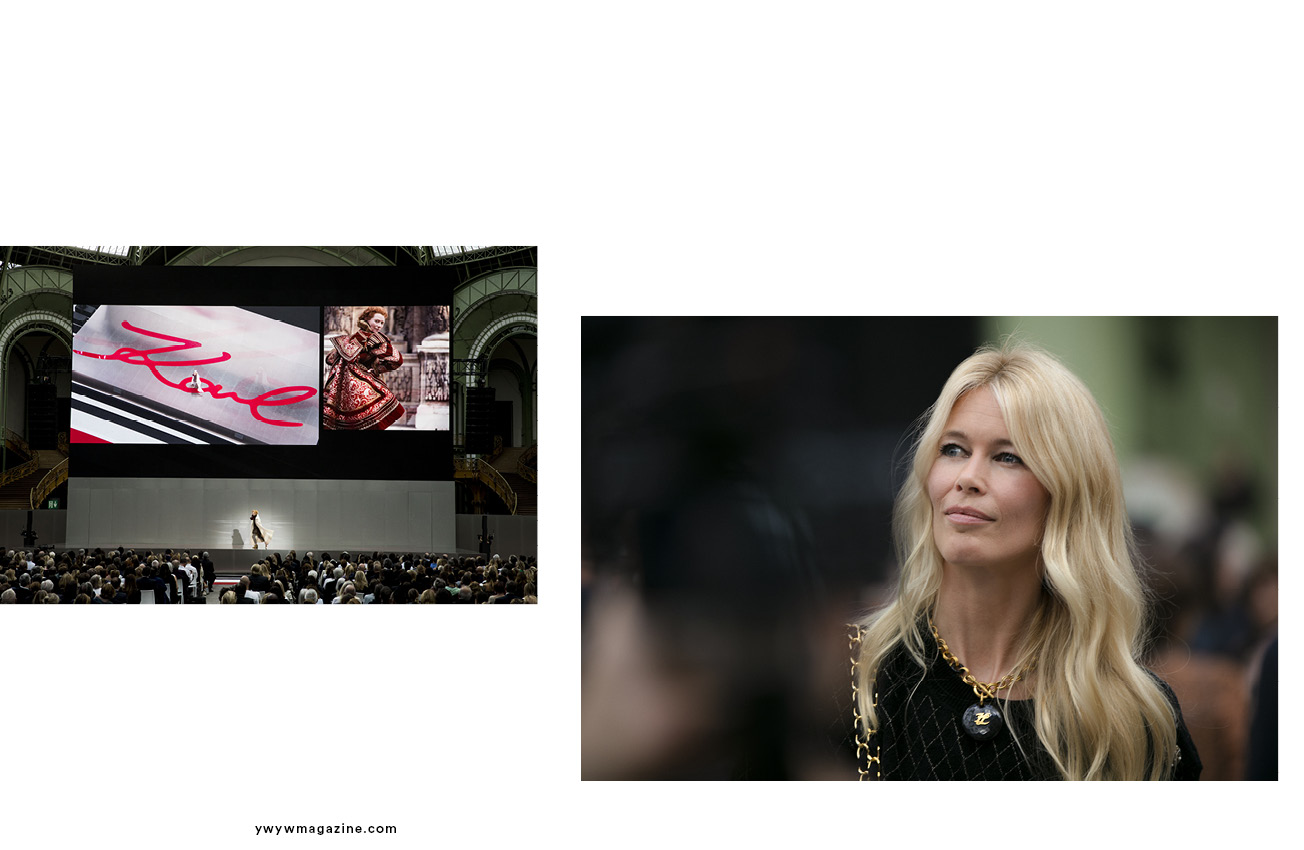 Left: Tilda Swinton. Right: Claudia Schiffer. Grand Palais, Paris
Actresses Tilda Swinton, Fanny Ardant, Cara Delevingne and Helen Mirren, friends of Karl Lagerfeld, recited and read excerpts from works by his favorite authors, such as Virginia Woolf, Stéphane Mallarmé, Colette and Edith Sitwell. The extraordinary Jookin dancer Lil Buck, the brilliant violinist Charlie Siem (who played Paganini, one of the favorite composers of Karl Lagerfeld's mother Elizabeth), Argentinian choreographer German Cornejo, accompanied by his troupe of 17 tango dancers and his 7-piece orchestra from Buenos Aires (Carlos Gardel was Karl Lagerfeld's favorite singer and the tango was his favorite dance), the celebrated pianist Lang Lang (who played Chopin on the grand piano designed by Karl Lagerfeld for the 150th anniversary of Steinway), and American artist Pharrell Williams were also on stage to pay homage to the man who had deeply marked them and who was their friend.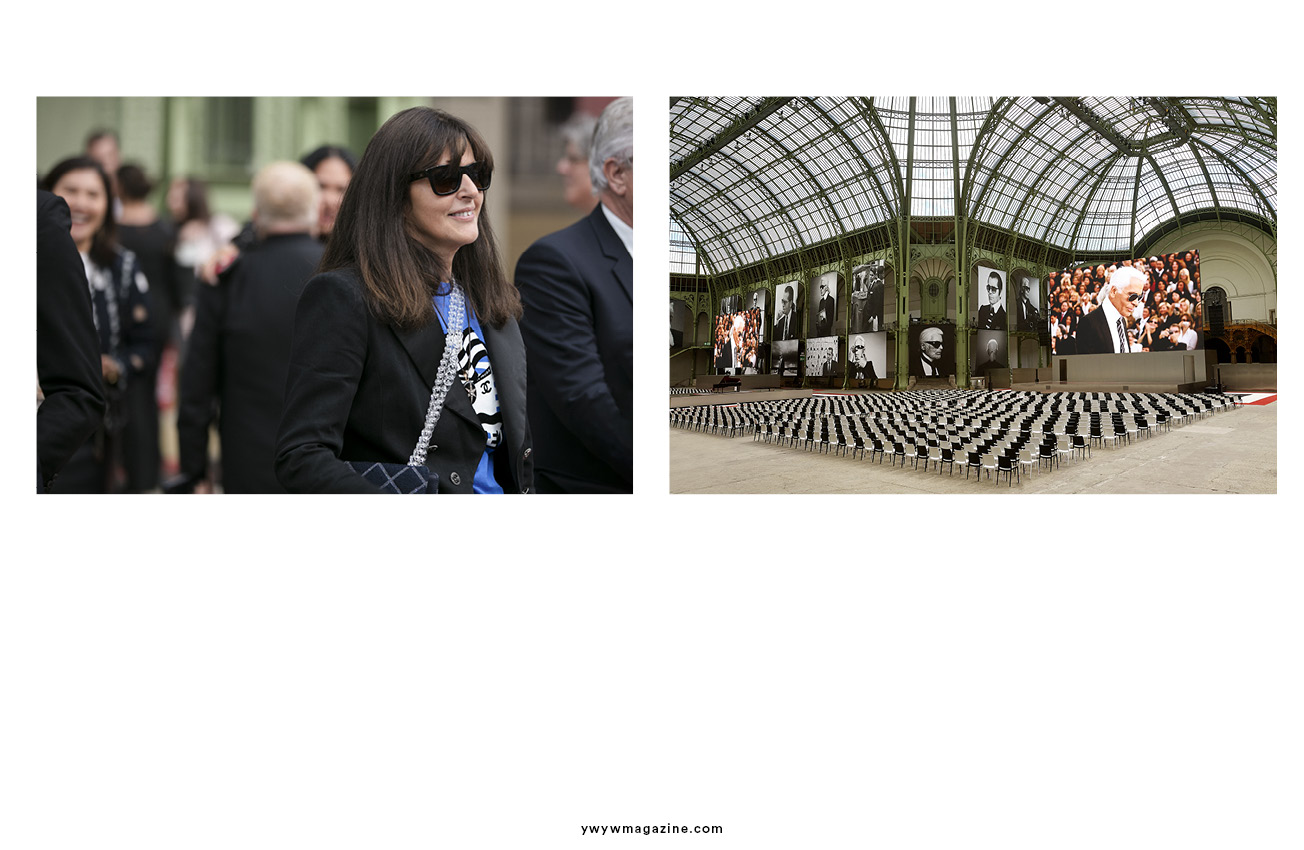 Left: Virginie Viard. Right: the venue, Grand Palais, Paris
These artists – as well as the 2,500 guests present at the Grand Palais to celebrate Karl Lagerfeld – were immersed in a spectacular exhibition of 56 giant enlargements of portraits taken throughout his life by some of the most famous photographers in a setting designed by Robert Carsen, inspired by Karl's favorite colors: black and white enhanced with a touch of red. In turn, the participants also paid tribute to the aesthete, this man of culture, photographer, creator in an exceptional moment as grand as his talent.