Tate Britain hosts the british finalist of the 2016 Turner Prize, Anthea Hamilton new work in motion "The Squash" .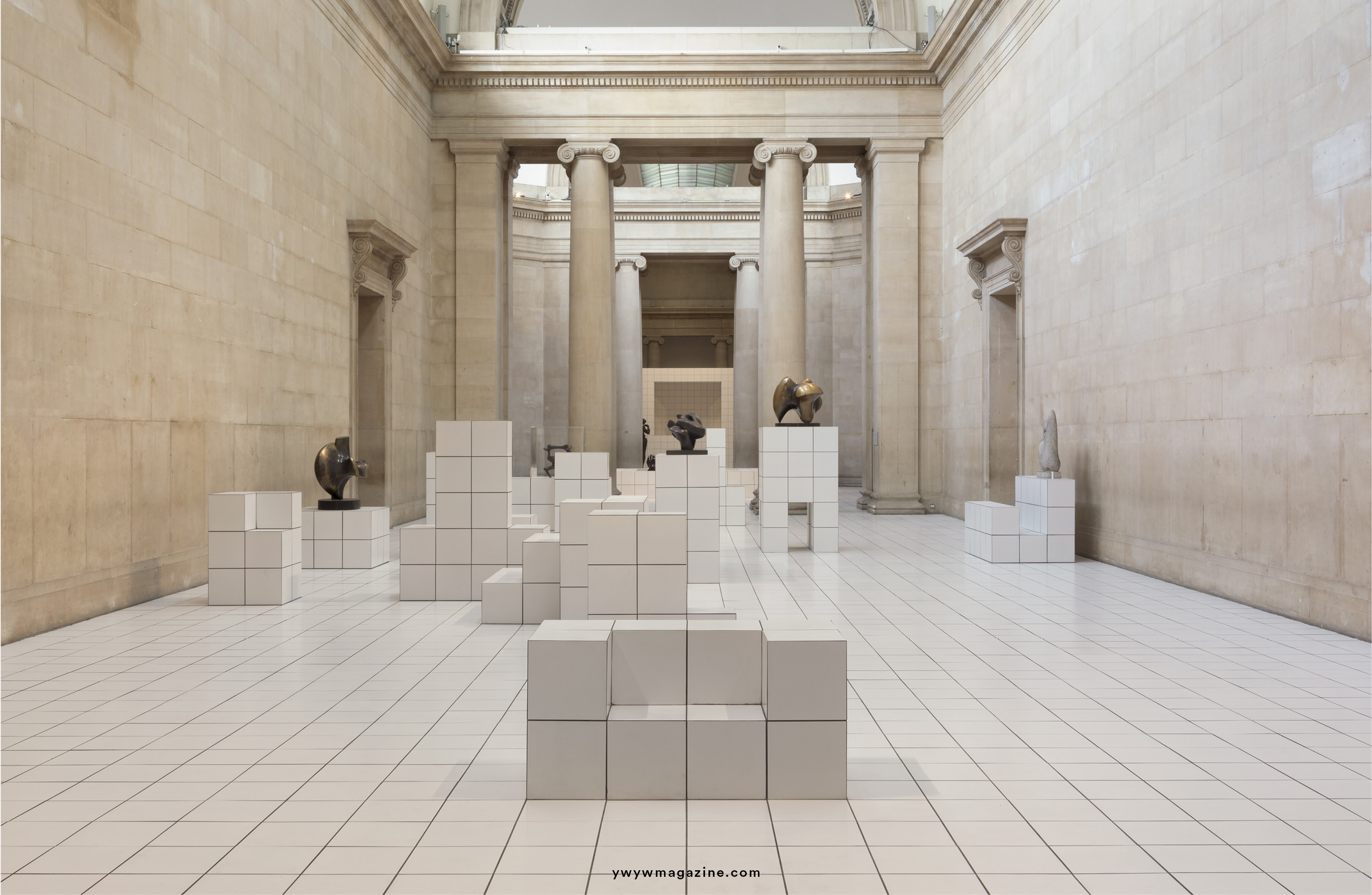 The artist is well known for her playful and ironic eye: inspired by a decontextualized photograph ​dated 1960 of a man dressed as a vegetable lying among vines, Hamilton gives birth to a connection between the solo performer and the sculptures populating the space she personally selected. Without any information about her inspirational source, she gives life to a full body of research that leads her to an interpretation of what the image "might feel": the conceit is loaded by mystery due to the elusive origin of the photograph. The space the performance takes place is aseptic, minimal and sterilised with references to bathhouses , medical centres and to the conceptual work of Sol Lewitte. The performer is left to inhabit the space moving on 7000 tiles of the Duveen Galleries which remind computer grinds. Trydimensional geometrical supports rise from the aseptic floor, creating different shapes to hold up the carnivalesque characters who wear enormous fibreglass head pieces covered with stretch fabrics, which have similarities of pumpkins .
The costumes are surreal ranging from black and white striped pants, to silk crepes blouses with exaggerated pleated sleeves.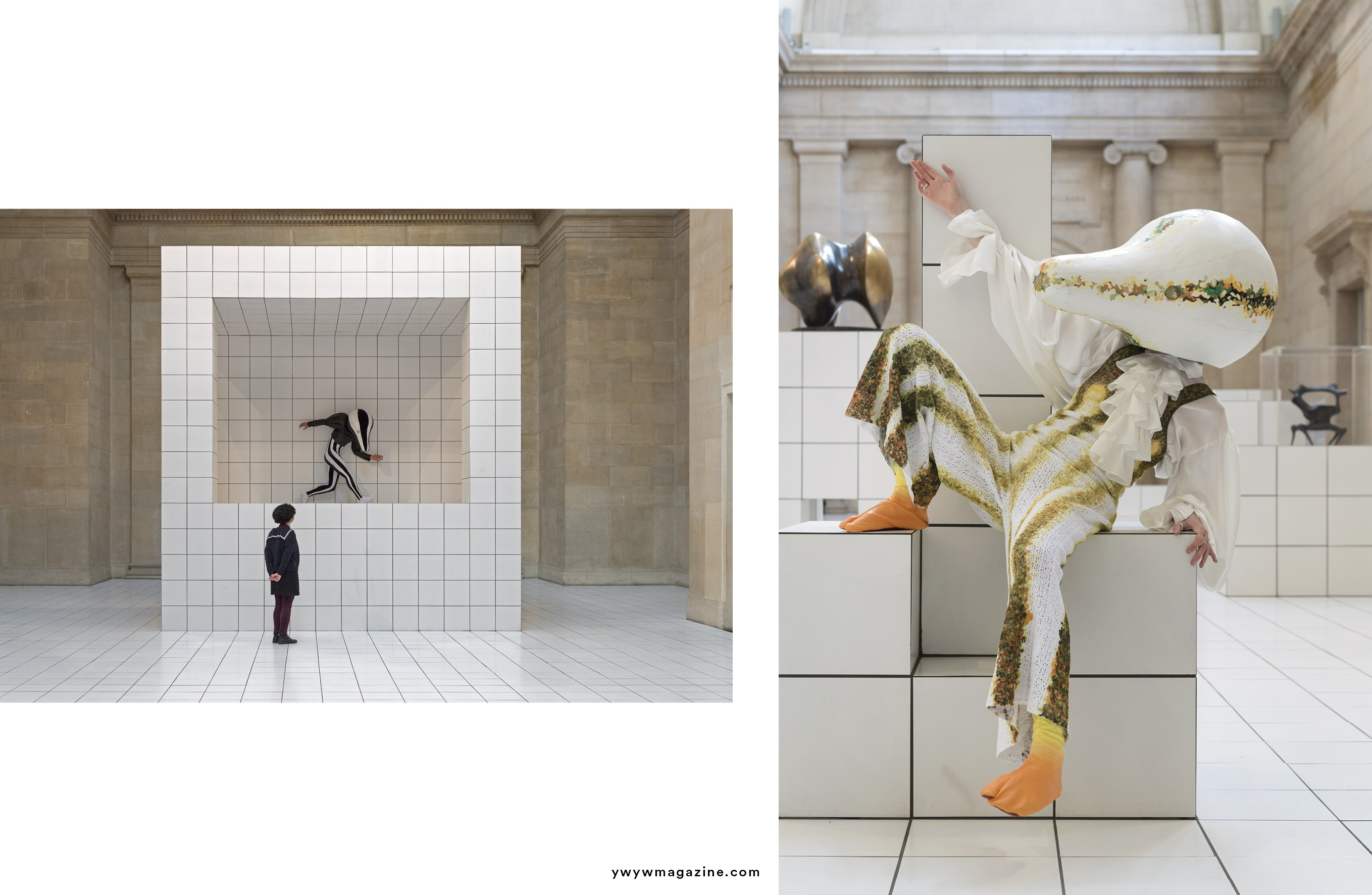 The performer, dressed up by JW Anderson, will choose from a rail one of the costumes which reflects his own mood.
 Interaction is the key world : works of Jean Arp, Arnold Machin, Frederic Leighton and Henry Moore become viewers, mute actors of what is happening around them, in a kind of ridiculous and absurd process, loosing their value in front of a human being wearing a pumpkin head. It is not the first time the designer and the artist collaborate on a project: on 2015 Anderson commissioned Hamilton to create pieces for Loewe's exhibition during Art Basel in Miami, from that moment they have worked together several times. Anderson, who has always approached contemporary art as a reference in his work, describes the process of the project not different from the creation of a collection. The fabrics involved are different: knitwear, leather and chiffon. Referring to the eight head pieces they paired different costumes: a tangible match between art and fashion, which become one thing.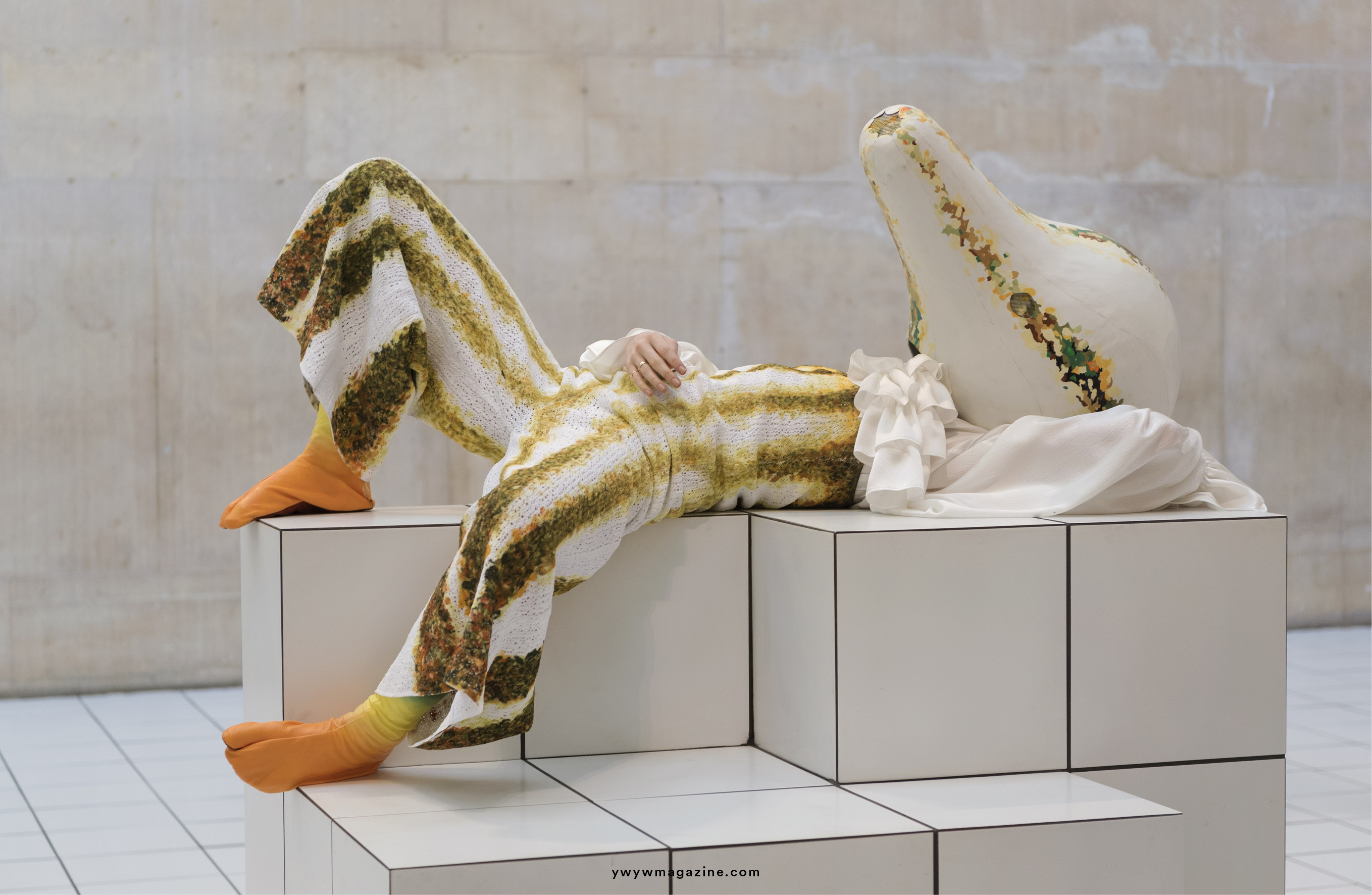 Courtesy of Tate Britain, Seraphina Neville and Matt Greenwood
Tate Britain Commission: Anthea Hamilton 22 March – 7 October 2018